WXYZ: Host of 'Prize Movie'.  Prize Movie ran every weekday morning for 21 years starting in 1960. During the breaks, Rita would receive phone calls from viewers who tried to guess song titles.  Rita was born in 1925 and passed on December 9, 2003. She was married to Jerome Frederick Hansen who as a Sgt. in the United States Marine Corp (1925-2015).
Along with others, I ran camera on her "Prize Movie" during the mornings.  Always a delight and loved the technical crew that surrounded her.  A wonderful asset when she worked at WXYZ." – Terry Pochert
Rita Louise "Rita Bell" Bell Hansen.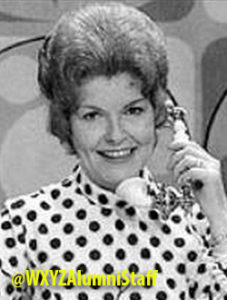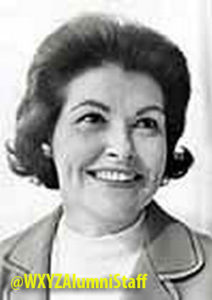 "TV Personality. Graduated from Marygrove College in Michigan, she began her career as a public relations representative for United Way. She also sang with big bands, and was discovered one night in 1957 by the General Manager of WXYZ-TV Channel 7, making her the first female television broadcaster in Michigan's history. After two years, she was awarded her own show, "Prize Movie," which aired more than 6,000 movies during its 18-year run. Also an actress, she had a cameo role in a 1968 episode of ABC's western television series, "Big Valley," and was a national spokesperson for American Women in Radio and Television." Biography from Find A Grave
References: