Another Slow Down for Morning Commuters
Another roll over on Arizona 347 connecting the Phoenix metropolitan area with the City of Maricopa.  The accident occurred shortly before 7am on Monday, August 21, 2017, and primarily affected the southbound lanes.  Northbound lanes almost cam to a standstill while the "rubber-neckers" took a look at the accident.
The rolled over car landing in the median so the southbound lanes were only closed for a brief time to allow emergency vehicles access to the scene.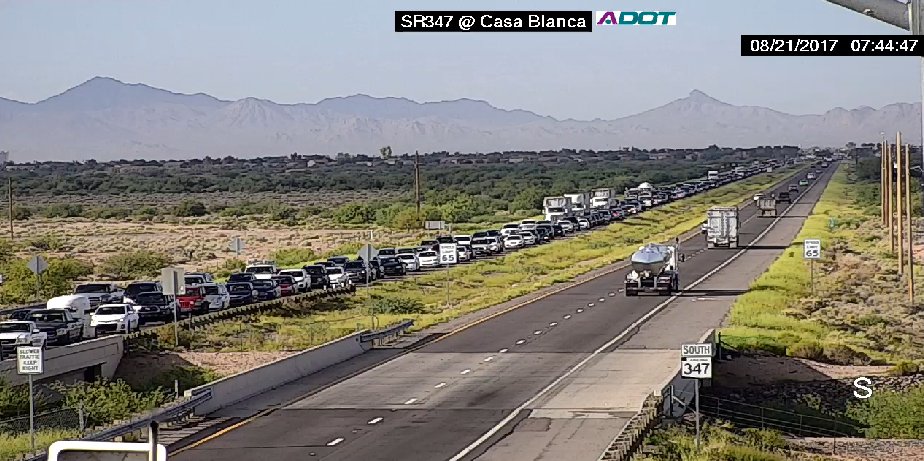 Photo from ADOT Twitter Account
References:
InMaricopa.com – August 21, 2017
SR 347 Traffic Camera Monitoring

Although not currently available on the Arizona Department of Transportation's website, there are nine cameras that now monitor traffic along the critical route into the City of Maricopa.

These cameras are only monitored internally by the ADOT Traffic Operations Center so that they can monitor traffic flow and adjust traffic signal timing if necessary.

It also allows them to monitor traffic accidents at critical locations such as the accident a Riggs on July 15, 2017.

This is a video of a accident all ready in progress when I had started the recorder. Before I had started recording the white F-150 had already hit multiple vehicles and a motorcycle on Riggs Road before taking off into the desert. – John Brutovsky

References:

YouTube.com (MP4)
PinalCentral.com, July 17, 2017, Bethany Blundell – Truck crosses desert, lanes of traffic before hitting semi on SR 347