Art Fettig's Monday Morning Memo
July 13, 2009
In This Issue
o Renewal
o Say Something Good
o Visit Our Website
o Points To Ponder
o A Little Humor
o Quote of the Week
o To Subscribe
Renewal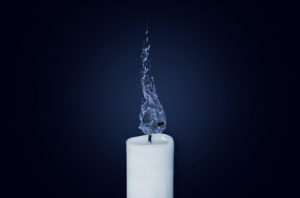 "Sometimes our candle goes out, but is blown into flame by an encounter with another human being." Albert Schweitzer"
When I read that recently I wanted to jump up on my desk, make a friendly fist, throw it into the air and cry out, "Yes!"
It seems like most of the work I do lately ends up on a pile some where.  Some of the things that used to take me an hour now take me a day or even two.  My distraction rate is humongous. Staying on track is a major effort.  And, yes, sometimes I do get down, but as that wonderful man, Albert Schweitzer once said, An encounter with another human being can relight my candle and make it glow. True joy comes when we have the opportunity to serve as the candle lighter for others.
Say Something Good
Andy's.  Earlier this week I drove over to a little restaurant that is new in our area.  Before I could open the door it swung open and a nice looking girl greeted me.  "Welcome to Andy's." She motioned for me to follow her over to a booth and as I walked along everyone on the staff gave me a friendly greeting.  They had a lunch special, a chili-dog, fries and a thick malt all for just $5.95 and after really enjoying everything.  Twice the waitress had checked with me to see that everything was fine.  Then when I walked over and paid my check I was thanked, invited to come back and invited to have a great day by every member of that staff.  I walked over to my car in the lot whistling.  All that friendliness didn't cost them a dime but it should make them a few dollars as I return again and again to a place where I really feel welcome.  May God bless America and keep our troops from harm.
Visit Our Website
I've been thriving since 1972 using my creativity and my speaking skills. I learned to use my creative imagination and then to implement my unique ideas creating my own corporation.  My new E-book titled Beyond Duh-Creativity in Action  is now available at our website artfettig.com It might be just what you need to get started in a new era of your working life.
Check out our website at www.artfettig.com  Learn about our sensational new 101 Kit that allows you to save thousands on speaker and travel fees and implement our fantastic employee positive interaction 101 program yourself.  It is an instant behavior modification commitment program that gets everyone in your organization involved in safety. Remember, you have a ten day money back guarantee too.  Act now.  Go directly to www.artfettig.com And get your safety program cranked up to a whole new level of performance.
Points To Ponder
Dreams get you started; discipline keeps you going. Jim Rohn
A Little Humor
A man dashes into a pharmacy and asks the druggist for something to stop hiccups. The druggist fills a glass with water and throws it into the man's face.  "Why did you do that?" The customer asks. "Well, you don't have the hiccups now do you?"  "No," the guy says, "My wife is waiting out in the car and she does."
Quote of the Week
If you don't think every day is a good day, just try missing one. Cavett Robert
To Subscribe
Subscribe and unsubscribe information at www.artfettig.com
References: