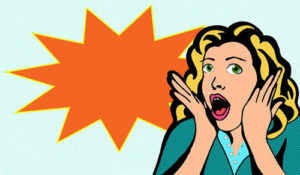 Ross Reck writes:
Part of our interpersonal success is tied to saying the right thing at the right time.  But an even larger part of that success is tied to our being able to avoid saying the wrong thing at the tempting moment.  There are times when we so want to tell somebody off or give them a piece of our mind because, at the time, it would make us feel so good.  In reality, all you gain by such behavior is an enemy who is looking for a chance to get back at you and is actively telling others about what you did–both of which make your life less happy and more difficult.  So, the next time you're tempted to tell someone off or give them a piece of your mind, remember the following anonymous quote: "Don't make tragedies of trifles, don't shoot butterflies with rifles–laugh it off!"  In the long run, you'll be really glad you did. [1]
References:
100% Employee Engagement Guaranteed! Newly Revised [Kindle & Paperback Editions]

Imagine a workplace where every employee is engaged with their work … where every employee shows up each day excited about giving every bit of energy, creativity and passion to performing their job. These employees don't need to be motivated because they already are and they channel their motivation toward creating a competitive edge for their company that can't be easily copied. They're constantly making innovative changes to products, services and customer experiences while providing superior levels of customer service which results in loyal customers. This means higher levels of repeat and referral business which, in turn, translates into significant increases in market share. In addition, absenteeism and turnover rates for these fully engaged employees are far below industry averages because they absolutely love what they do. This book presents a new management model that guarantees an employee engagement level of 100%. If you implement this model in your organization, every one of your employees will become engaged with their work; all working at their full potential. Think of what it would mean to the success of your business or organization if you could get all of your employees engaged with their work.