My double-headed stringless banjo adventure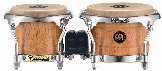 I saw it listed in a senior's programs booklet. "Share Your Songs". I drove over to Chapel Hill to their Senior Center and met two young (by my standards but old by most's,) gentlemen with guitars.  The notice said to bring our acoustic instruments.
Are finger bongos an "acoustic instrument"? As opposed to electronic drums I guess they are but some folkish music followers sway towards the early Grand Old Opry tradition of banning drums from their stage.  I just said "This is my double-headed stringless-banjo" and they smiled friendly smiles, probably in deference to my obvious aging. What a joy it was watching these two gents having so much fun and producing such wonderful music individually and then together. Stringlessly,  I stumbled through the lyrics of a couple of my songs and they were most patient and kind.
What a laid back relaxing way to spend a joy filled hour and a half. I was hummin' all the way home.